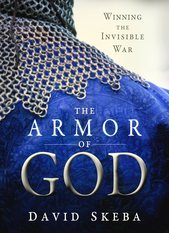 Order Now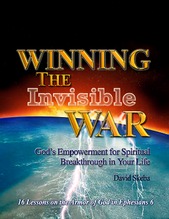 Original Cover
Reasons Why We Need This Study
There is a mighty spiritual war raging all around us. You have sensed it, felt it, and hoped it wasn't quite so real. It's all happening; right here, right now, in YOUR life. David Skeba reveals why your life and the world are the way they are and how you can change them for the better.
The Bible says we share this planet with evil spiritual powers whose leader is Satan. We are born into a world where we find ourselves caught in the midst of Satan's war against God's kingdom. We have become the targets. We are the prize. The battle is for our very souls—and for the glory of God!
We also are born with a sinful nature, an enemy within, and into a world system that is indifferent and in opposition to both the will and glory of God. The world attracts and appeals to our sinful nature and competes with God for the possession of our hearts.
We are being attacked from all fronts and many of us don't know who our enemies really are or how to fight them. What you don't know can hurt you.
Open your eyes and discover an invisible world you never knew existed. Learn how to fight and conquer enemies you cannot see – your sinful nature, the world, and the devil – so you can victoriously finish your journey on earth, and then live with God forever.

The Former TV Series is Now on DVD
Discover How You Can Win the Invisible War
This in-depth study of the spiritual armor described in Ephesians 6 is a guide to living victoriously in these end times, on planet earth—the realm of Satan's domain. With more than 1000 Bible references, this training material Biblically...
Exposes and addresses problem areas that plague church congregations
Reveals more than 30 tactics Satan uses against us
Teaches how to recognize spiritual attacks and Biblically respond to them
Equips you with knowledge of the defensive and offensive weaponry God has provided
Provides basic training, like a spiritual boot camp, by helping you dress for battle
Enables you to develop the ability to defeat all your spiritual enemies
Gives a greater understanding of yourself and helps make sense of this world
Designed to be a practical handbook that you can refer to for the rest of your life
The world is becoming an ever more evil and perilous place. We are closer to the beginning of the end times that the Bible foretells. As sinful deeds are increasingly committed, they attract and loose more demonic power into our nation and our world; therefore, it should behoove every one of us to learn how to defend ourselves in this invisible war.
Ways to Use The Armor of God

This comprehensive guide to spiritual warfare consists of a 16 lesson workbook (24 sessions) and instructional DVDs—a 7-hour video course. Each lesson is approx. 25 minutes. The study can be conducted in either a 16-week period, a 24-week period, or a 26-week period).
Use for your own personal enrichment
Home study groups
Sunday school and/or mid-week services
The workbook can be used without the videos (but are recommended)
Lesson Handouts are available for Sunday school or mid-week services
Quarterly Exams are available
What others are saying about The Armor of God
To view a sample print lesson
To view a sample video lesson
---
This DVD series and workbook are the result of more than 30 years of research and seeking God by David Skeba. His collective experience in seminary, as pastor, on-air Bible teacher, author, and former VP of Programming for a national Christian television ministry has uniquely prepared him to speak and write on the subject of spiritual warfare.
David and his wife, Mary Anne, have been married for 28 years. An avid student of the Bible, he continues to search for effective ways to communicate God's Word in simple, practical ways. More about David Skeba.

Other Resources

Discover God's amazing love and the phenomenal things Christ did for you on a Roman cross that Good Friday 2000 years ago.

You will never be
the same!
Picture of the Roman sword courtesy of www.armsofvalor.com


© All rights reserved